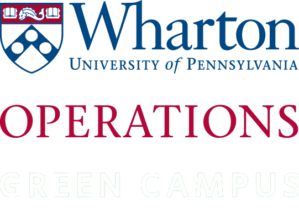 Dealing with E-Waste
Electronic equipment such as computers, peripherals, monitors, alkaline and lithium batteries, and cell phones are all recyclable.

Wharton's Effort
WCIT
Wharton Computing and Information Technology (WCIT) recycled 20,442 pounds of used computer equipment in 2017, including monitors and TV's, servers, printers, wiring, batteries and misc. steel.
Office Clean-up
Wharton's annual Office Clean‐up Day initiative, sponsored by the Finance and Administration Department, generated 765 pounds of electronic waste, batteries and compact fluorescent bulbs for recycling.
For more information regarding waste minimization here at Wharton, please read the 2017 Wharton Sustainability Report.
How to help
Computers, Peripherals and Cell Phones
Contact your Wharton Computing (WCIT) representative to recycle departmental equipment. WCIT organizes quarterly drop-off days in which academic and administrative departments can drop off their items for recycling.
Wharton works with Eforce Compliance to process bulk electronic items, including batteries. Contact Wharton Operations for additional information.
Look for Wharton Office Clean-up days to recycle other miscellaneous equipment.
Batteries
The Wharton Operations battery and writing instrument recycle program is a free service for all Wharton community members and supports Penn's environmental goals.  Drop off stations will be centrally located in three key areas:
Huntsman Hall: Wharton Operations, Suite F30;
Steinberg Hall-Dietrich Hall: Main entrance (Locust Walk) guard station
Vance Hall: Ground floor main entrance (37th St) security desk station.
REMINDER: Please tape the ends of batteries before recycling.
Questions? Please email sustainability@wharton.upenn.edu .