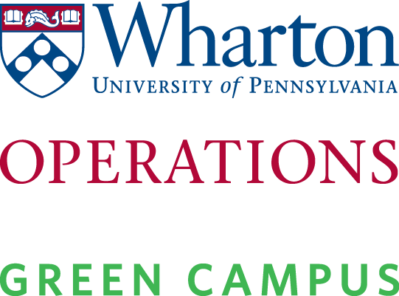 Sustainability
Wharton Operations Green Campus Mission
To advocate for the University of Pennsylvania's campus-wide greening efforts by identifying and implementing substantive reductions in the environmental impact of the Wharton community that demonstrate leadership and sustainability on behalf of our students, faculty and staff.
What We Do
The Green Campus Sustainability Program, run by Wharton Operations, works to identify and implement actions that reduce Wharton's environmental footprint and promote sustainable behavior among our stakeholders. These activities include:
Working with consultants and Penn's Facilities and Real Estate Services group to identify HVAC, lighting and commissioning-related projects that reduce our complex-wide energy use and increase our use of clean, renewable energy
Seeking opportunities to engage with Wharton stakeholders including students, staff, faculty, contractors, partners, sponsors and alumni to change behavior in and outside of our facilities
Evaluate waste and recycling initiatives to reduce waste and increase our diversion rates
Identify opportunities to improve or enhance our green cleaning, green IT and water reduction programs
Any other opportunities to advance sustainability at Wharton
Latest News
Wharton Legal Studies and Business Ethics Department, IGEL and the Zicklin Center becomes the first academic department to achieve Green Office Certification, reaching Level 4 certification! Congratulations!
For more information on how your department can achieve Green Office Certification, contact sustainability@wharton.upenn.edu.