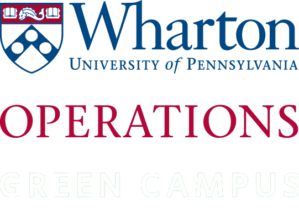 Sustainability
Wharton Operations Green Campus Mission
Inspire leadership and innovation as advocates for the University of Pennsylvania's sustainability commitment by engaging the Wharton community, identifying opportunities and implementing strategies that substantially reduce our environmental impact.
In 2007, University of Pennsylvania President Amy Gutmann signed the American College and University President's Climate Commitment (ACUPCC). This pledge committed Penn to develop plans for long-term reduction of its emissions of climate-altering greenhouse gases with the long-term goal of carbon neutrality by 2042. The ensuing 2009 Climate Action Plan and the follow-up CAP 2.0 in 2014, laid out strategies to achieve this goal, as well as the means to track and communicate progress to the Penn community and external audiences.
In support of Penn's Climate commitment, the Wharton Operation Green Campus mission is "to advocate for the University of Pennsylvania's campus-wide greening efforts by identifying and implementing substantive reductions in the environmental impact of the Wharton community that demonstrate leadership and sustainability on behalf of our students, faculty and staff."
What We Do
The Wharton Operations Green Campus works to identify and implement actions that reduce Wharton's environmental footprint and promote sustainable behavior among our stakeholders. These activities include:
Operations and Utilities:

Promote and adopt best practices in energy management, design and maintenance to improve efficiency and reduce Wharton's carbon footprint. Working with consultants and Penn's Facilities and Real Estate Services group to identify HVAC, lighting and commissioning-related projects that reduce our complex-wide energy use and increase our use of clean, renewable energy.

Physical Environment:

Create and maintain a sustainable and healthy built environment through best practices in decreasing building energy consumption, selection of materials and products, construction management, green cleaning and increasing education and awareness of sustainable design.

Waste Management:

Minimizing solid waste through community education, strategic purchasing, appropriate infrastructure and proper disposal, strengthened by relevant and accurate metrics. Evaluate waste and recycling initiatives to reduce waste and increase our diversion rates.

Outreach and Resources:

Seek opportunities to engage with Wharton stakeholders including students, staff, faculty, contractors, partners, sponsors and alumni to change behavior in and outside of our facilities.

Partners:

Supporting campus-wide climate change and sustainability initiatives, activities and programs available to all.
Latest News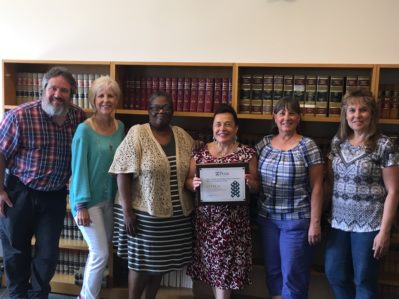 Wharton Legal Studies and Business Ethics Department, IGEL and the Zicklin Center becomes the first academic department to achieve Green Office Certification, reaching Level 4 certification! Congratulations!
For more information on how your department can achieve Green Office Certification, contact sustainability@wharton.upenn.edu.