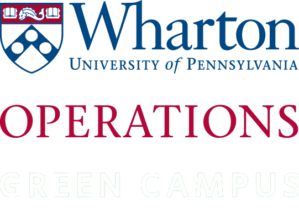 Solid Waste Management
Reducing the amount of waste sent to landfills is a community effort, involving students, faculty, and staff. Wharton Operations is committed to increasing the percentage and types of campus waste that is re-purposed, recycled and composted.
Know Your Waste!
Recycling stations are located throughout Wharton for the following materials. Properly sorting items for the landfill and recycling are areas where your personal choices can make a difference.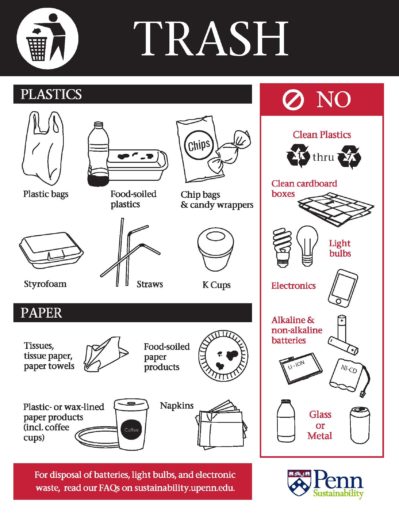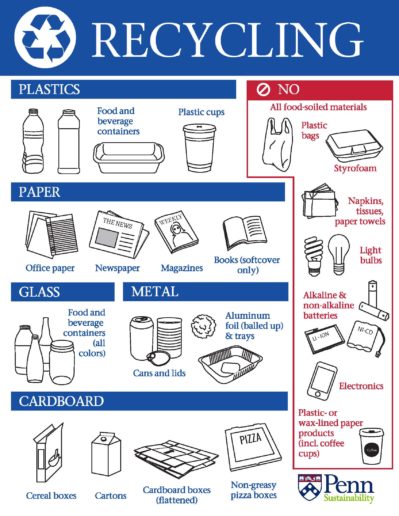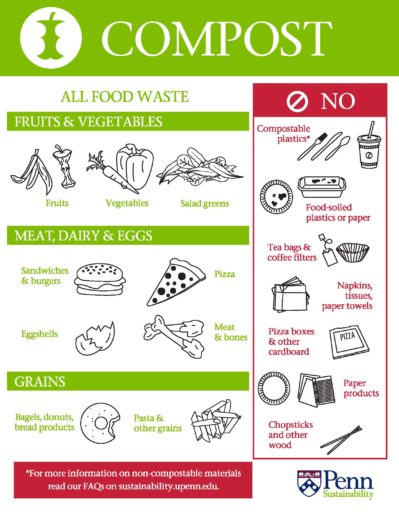 Recyclable Materials
Mixed Paper
Mixed paper is the term used for all types and grades of paper. Paper and cardboard are collected together from all buildings on campus. Almost all paper, with a few exceptions, can be recycled.
Office Paper
Junk Mail
Bulk Packs
Glossy Paper
Magazines
Newspapers
Notebooks
Catalogs
Paperbacks
Brown Paper Bags
Phone Books
NO Hardcover Books
NO Wax Paper (this item is compostable)
NO Soiled Paper (this item is compostable)
Departments can recycle hardcover book for a fee by arranging a pick-up through Wharton Operations. Contact repair-it@wharton.upenn.edu for more information.
All other hardcover books can be donated to your local library. Many bookstores (including the Penn Bookstore @ 36th and Walnut) offer buy-back opportunities for used textbooks.
Cardboard
Empty and Flatten. Place flattened cardboard boxes next to any recycling bin in the building.  This indicates to the housekeeping staff that the box is meant to be recycled.
Cardboard boxes
Clean pizza boxes
Drink and ice cream cartons
Fiber board (ex: cereal boxes)
NO Wax-Coated Cardboard (this item is compostable)
NO Food Soiled Cardboard (this item is compostable)
Cardboard Bailer Institutionalizes Recycling
Huntsman Hall was one of the first facilities on campus to install a bailer in the loading dock to compact cardboard boxes. Bailers take empty boxes and crush them down so that they can be easily hauled away and recycled. This ensures that recycling is happening for all cardboard that comes through the loading dock, and that we are conscious of our waste stream as both building users and building managers.
Contact Wharton Operations Customer Service if you have cardboard boxes to recycle:
phone: 215-898-2575
email: mailto:repair-it@wharton.upenn.edu
Glass, Plastics #1 – #7, and Metals
Glass, all plastic, and metals are recyclable materials that are collected together, or "commingled".
Glass
All glass food and beverage containers (all colors)
Plastics
All plastic containers with a valid recycling symbol are now recyclable on campus. Examples include:
Plastic cups, bottles, and lids
Shampoo and detergent bottles
Milk jugs and yogurt containers
Plastic packaging
Aluminum Cans
Aluminum Foil
Empty Aerosol Cans
NO PLASTIC BAGS
NO PLASTIC WRAP
NO CANDY AND CHIP WRAPPERS
NO FOAM PRODUCTS
Metals
Steel & ferrous cans (canned goods, coffee cans, etc.)