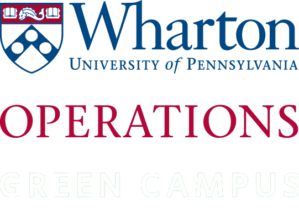 Penn and Wharton Partners
Here at the University of Pennsylvania we have many different groups fighting alongside us for more eco-friendly and sustainable practices across campus.
Programs and Initiatives
The Green Campus Partnership is the umbrella organization that was formed in 2007 to address environmental sustainability planning and policy development at the University of Pennsylvania and to coordinate programs and initiatives for a more sustainable campus.
The Wharton-led, Penn-wide Initiative for Global Environmental Leadership (IGEL) promotes knowledge for business sustainability through world-class research, transformative teaching and constructive dialogue between top alumni, academic, corporate, government, and non-government organizations. IGEL is a hub for business and sustainability, connecting and leveraging academic capital at Penn to help business leaders of today and tomorrow to create more sustainable industries.
Penn Enerfront is a forum where many Penn disciplines meet to test ideas, inform one another and collaborate in a united quest for the best and comprehensive energy solutions. We call ourselves EnerFront, because we are explorers of energy frontiers.
The Center for Environmental Building & Design is a faculty research unit at the School of Design dedicated to improving the environmental future of contemporary buildings and cities. We must look beyond building efficiency standards and net-zero formulations to design truly resilient buildings and cities.
The Kleinman Center supports a vibrant network of energy research at the University of Pennsylvania.